Source: Publicity Department (Press Center) 2022-04-23

The Boao Forum for Asia (BFA) Annual Conference 2022 was held in Boao, Hainan Province from April 20 to 22. Yu Xiang, Vice President of Hubei Normal University and Director of Sino-European Institute for Intellectual Property, Huazhong University of Science and Technology, spoke at the Roundtable on Intellectual Property in Asia: Trends and Opportunities on April 20. Yu Xiang then joined the live broadcast of CGTN (China Global Television Network) and was interviewed exclusively at noon on the 21st.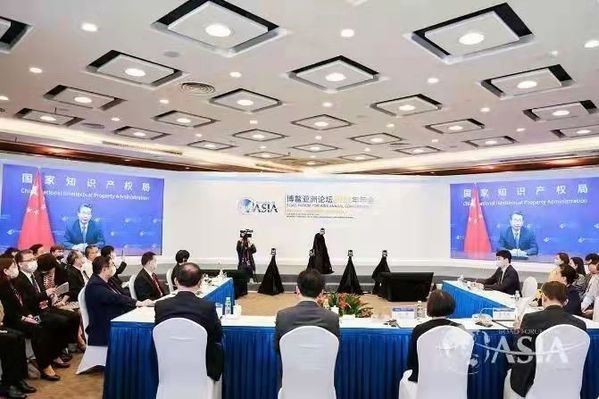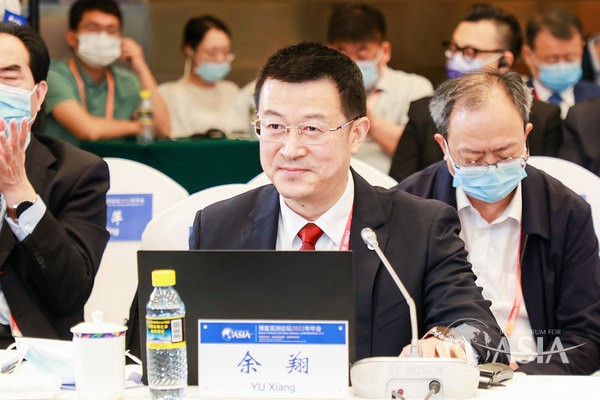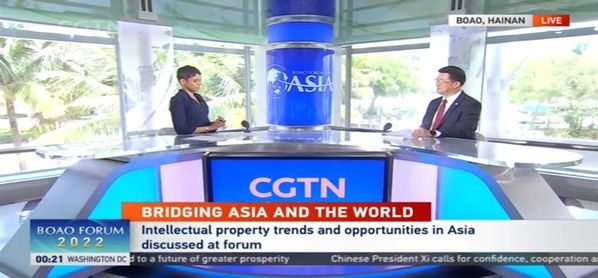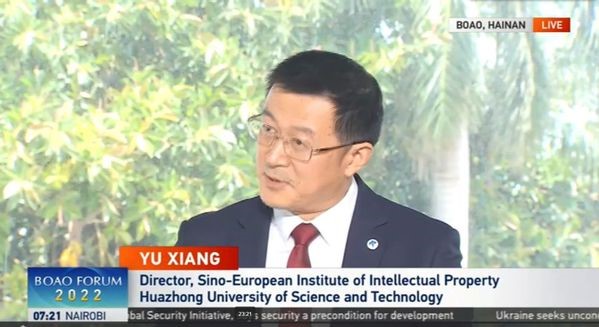 Mr Yu shared his opinions regarding IP cooperation and protection.
Firstly, international cooperation mechanisms shall be expanded to improve and facilitate patent examination, for instance, signing more Patent Prosecution Highway (PPH) cooperation agreements, so that the same invention can be licensed more quickly in different countries.
Secondly, it is necessary to promote the transformation and application of patented technologies through legislation and policies. The open licensing system stipulated in the legislation can help simplify the negotiation of patent licensing, which in turn promotes the application of patented technology.

Thirdly, green technology innovation should be further encouraged. For example, countries such as the UK, the US, South Korea, Japan, Israel and China have formulated incentive policies for green patent to stimulate green innovation through measures including rapid review and fee reduction. In addition, Prof. Yu also believes that technologies for preventing and treating major infectious diseases also need to be encouraged by reference to the green technology patent system.
As for market players, Prof. Yu pointed out that we should seize new IPR opportunities and avoid IPR risks. For example, green innovation technologies and major public health safety prevention technologies are aligned with national incentive policies, and enterprises will gain new intellectual property opportunities; artificial intelligence technology has a wide range of applications, but unsafe, unfair and unethical artificial intelligence poses a great risk, therefore should be regulated.
Yu Xiang: Vice President of Hubei Normal University; professor and doctoral supervisor of the School of Management, Director General of Sino-European Institute for Intellectual Property of HUST; Director of Chinese-German Institute for Intellectual Property of School of Management; German Humboldt Scholar; Member of Academia Europaea.