The Student from the Confucius Institute of Hubei Normal University won an award in the 22nd Chinese Bridge Chinese Proficiency Competition 2023 UK Regional Final
On June 23, the final of the 22nd Chinese Bridge Chinese Proficiency Competition 2023 UK Regional Final was held in London. Liam Bailey (Chinese name Lian), a student of the Confucius Institute of Hubei Normal University at UU, won the Best Creative Award.
A total of 18 contestants from 15 universities across the UK participated in the competition, which was divided into professional and non-professional groups. The final process includes five parts: a self-made short video, a 3-minute speech, cultural knowledge question and answer, a Chinese talent show, and an impromptu question and answer.Liam Bailey, a participant at the Confucius Institute of Hubei Normal University at UU, recorded his experience and impressions of learning Chinese and Chinese Kung Fu in his homemade video. The live speech My Chinese Dream talked about why he fell in love with the Chinese language and Chinese Kung Fu, as well as his gains and feelings from attending the two-week Chinese Bridge Summer Camp in China; The Chinese talent show Chinese kung fu Jian Qi Quan Feng. Relying on his fluent and standard Chinese expression, brilliant martial arts performance, infectious storytelling, and highly popular support online and offline, Liam Bailey finally won the Best Creative Award, one of the four individual awards.
Liam Bailey, a sophomore majoring in animation at Ulster University and a Chinese language learner at the Confucius Institute of Hubei Normal University at UU, started learning Chinese in September last year and successfully passed HSK1 four months later. With the encouragement of the Confucius Institute teacher Weng Junyuan, Liam Bailey, who has just learned Chinese for half a year, made up his mind to participate in this year's Chinese Bridge Competition for College Students. After deciding to participate in the competition, he almost sacrificed all his spare time and devoted all his energy to the preparation. In addition to practicing Chinese, he also began to study Chinese martial arts with his teacher every day. Two weeks before the competition, he took part in the Chinese Bridge Summer Camp Visit to China. In order to maintain his condition, he continued to practice Chinese and martial arts every day under the relay guidance of many volunteer teachers in HBNU. When he left China, the Physical Education College of Hubei Normal University specially presented him with a sword, wishing him ideal results in the competition and keeping on practicing.
Liam Bailey said in his speech: I am a Parkour enthusiast and have been completely fascinated by Chinese Kung fu ever since I saw it in the movies. My Chinese teacher taught me not only Chinese and Chinese martial art, but also the Chinese martial art spirit of building up one's body, cultivating one's virtue, and developing true grit. My dream is to learn Chinese and Chinese kung fu well and to have the chance to visit China. Fortunately, I achieved my dream in my second year of college. In my recent two-week trip to China, the respectable and adorable teachers and volunteers at Hubei Normal University and the beautiful scenery seen everywhere have left me lifelong unforgettable memories. I love China, I love Chinese language and culture.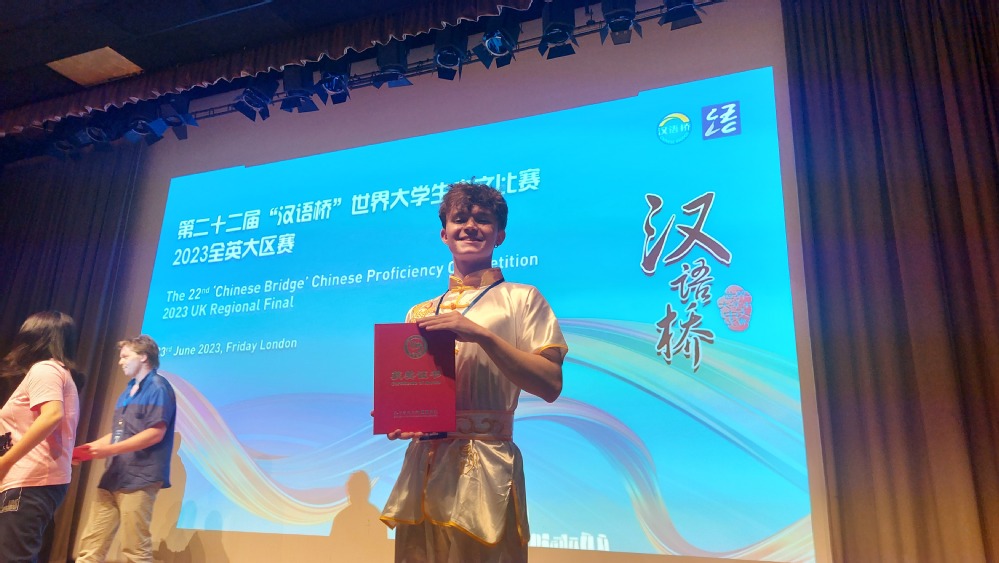 Du Yunan, one of the judges of the competition and a senior journalist of CGTN, said that although Liam Bailey was shy, his kung fu moves were very powerful, which turn out to be very sophisticated and left a deep impression on everyone. After the competition, Du's reporter encouraged him to keep practicing Chinese martial art and not to give up.
It is reported that this competition is a stage for British Chinese learners to showcase their learning achievements and present themselves, is a platform to feel the charm of the Chinese language, promote Chinese culture and build a bridge of friendship, and also a channel to promote communication and interaction and to look for employment development. In recent years, more and more students of the Confucius Institute of Hubei Normal University at UU have won prizes in the Chinese Bridge Competition as primary, middle school, and university students, which reflects the continued growth of our teaching quality and influence of the Confucius Institute in our school. Dolores Kyle, Chief Whip of the Social Democratic Party of Northern Ireland and former chair of the Cross-Party China Affairs Group of the Northern Ireland Parliament mentioned in her speech that Northern Ireland has a long and precious relationship with China, and the Confucius Institute of Hubei Normal University at UU has done tons of work in introducing Chinese language, culture, and history to the local youngsters, and made a success.